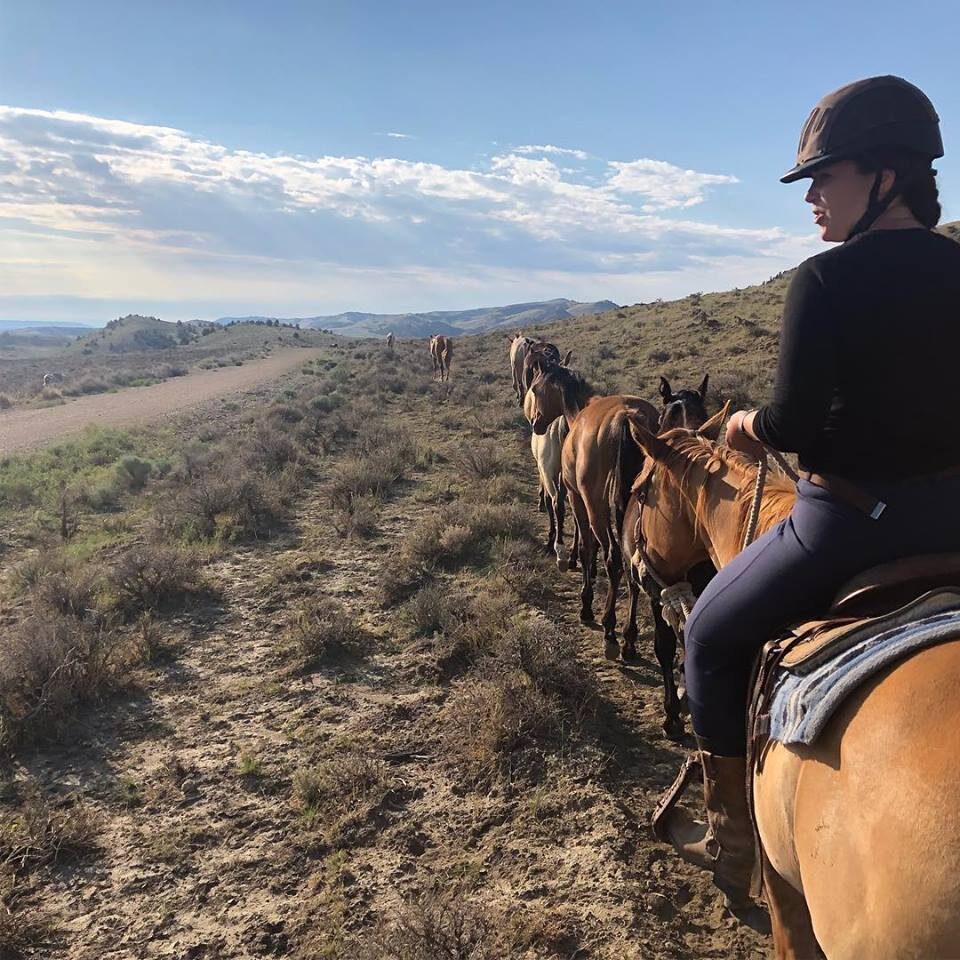 Dandy has done it all - mountain riding, working cows, wrangling the remuda.  His gentle temperament and fast walk make him a pleasure to ride on a loose rein.  He's got some go to him - somebody could ranch on him.

Check out the video "DANDY IN ACTION" below.

"We have wonderful memories from our trip. Cavalier, Dandy, and Doc were the beauties I had the privilege of riding. I loved them all!" - Cary
Size - 15 hh
Age - 18 (b. 2004)
Sex - Gelding
Color - Dun
Breed - Quarter Horse
Registration - Grade
Rider level - Beginner to advanced, kid or adult
Temperament - Kind, quiet, calm
Experience - Trail rides and ranch work
Fast walk, rocking chair lope
Rides on a loose rein with a bosal or snaffle (curb bit isn't necessary)
Has lots of spunk
Wants to please
Responds to frequent positive reinforcement
Needs pasture (not hay)
Available June 25
Dandy has a nice fast walk that makes him a the horse of choice when heading out on the trail or to ride the pasture and gather cows.  It isn't necessary to kick him every step. Dandy will stop, walk, trot, and go into a rocking chair lope with relatively gentle cues, has some neck reining ability, can be ridden at the front of the group or the back (the river crossing pic), he goes through water, and over any kind of terrain.
This video was taken after they came off 6 months of winter pasture last week where all Dandy did was eat and stand around. The trainer jumped on him, kicked him into a lope and rode him past me to see if he would buck (the first video segment) and the thought never entered Dandy's mind.
Although there are no pictures of this on the video, he understands hobbles, has had tarps and ropes over and under him, will drag tarps and tires, carry tires and packs, is good about picking up his feet, has been shod many times, loads in a trailer.  He's an excellent hunting horse prospect - ride him in and pack out your elk. Nothing phases this horse.
Dandy can be ridden equally well in a bosal or a bridle. We ride with snaffle bits and he probably does better in a snaffle than a curb bit and better in a bosal than a snaffle. You can see that he has more forward than stop/back but he stops better in a bosal than a snaffle.
Dandy's only issues are that he gets fat easily and he can't be on dusty hay or dirt because of his allergy, although on winter pasture he has in fact been eating good, clean hay have for several months and he hasn't been affected. In the event that dust is temporarily unavoidable for some reason like you are on a trail ride, 5-10 cc's of ventipulmin bring it under control. As you can see from the video, his breathing is not affected by exertion.
If you are looking for a solid, safe horse for everyone in the family and your neighbors, that's a pleasure to ride and easy on the legs as well as the eye, Dandy's a good choice.