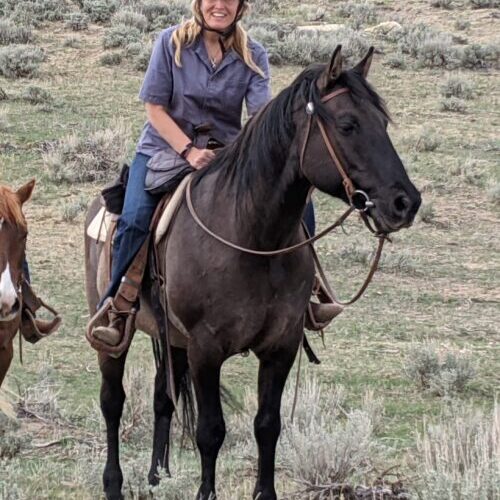 Cavalier is a grulla Quarter Horse Mustang.  He's big, he's stout, when you're on him, you've got a horse underneath you!  He'll do what you ask him to do.  What more could you ask for?  24 yo (we couldn't believe it when we looked at his brand inspection!) going on 8 or 10, he wants to go somewhere but he's not running through your hands.  He's got some age to him but has many more good years and you're mounted when you're on him. Preference to buyers who will take Cavalier and Fern - they're a pair and will make a great addition to any family wanting to raise their kids horseback or equine therapy program.  "This is a horse now!" - Jake.  Check out the videos below.
Size- 15.2 hands

Age - 24 (b. 1999)

Sex - Gelding

Color - Grulla

Breed - Quarter Horse x Mustang



Registration - Grade
Rider level - Gentle for anyone
Temperament - Calm and quiet
Experience - Pat Wyse Clinics, Trail rides, and cattle roundups
Ability - Trail riding, packing, and ranch work
Wants to please
Responds to frequent positive reinforcement
Works off your legs
Rides on a loose rein
Available now
Cavalier's story:  We found him in a back alley at the Billings Livestock Auction as a two year old stud colt and brought him home, gelded him and started riding him.  He was gentle from the get-go.  But the fascinating thing is his story.  His mom was someone's backyard horse who escaped and ran with the wild bunch.  She would never have been found but a year later, when the weather turned cold, she came home with this little guy by her side!  Imagine if you had been the one to see them coming in - it would melt your heart!
"I had the pleasure of riding 4 different horses during my time there; Roy, Holly, Poncho, and Cavalier. Cavalier was by far my favorite! I still talk about him and it has almost been 9 years since I was there!" - Stori